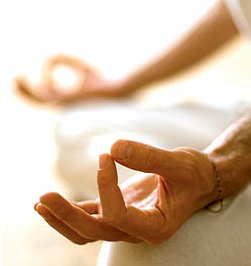 Join us at one of our weekly Yoga for Fertility classes conveniently held at all of our CNY Healing Arts Center locations, view our calendar.

Quickjumps:
What is yoga for fertility?
Yoga for fertility is an energizing form of exercise that encourages relaxation at the deepest level. The Fertile Secret yoga combines specialized postures, breathing, guided imagery, relaxation techniques and group support to enhance reproductive function in both men and women.
The Fertile Secret yoga class has been created with every level of yoga practitioner in mind. Whether a beginner or advanced student, you will be guided through a variety of sequences to support your fertility, opening to new levels of awareness both physically and emotionally.   Come to a fertility yoga class to experience the deep calm available to each of us when we shift into a new frame of mind: a state of open receptivity to the inherent potential that lies within.
Practicing fertility yoga encourages conception by:
•    Reducing stress
•    Increasing blood flow to the reproductive organs
•    Opening the pelvic and hip region
•    Aligning the spine
•    Releasing toxins
•    Releasing emotional tension
•    Regulating the endocrine system
•    Elevating mood
•    Relieving insomnia
Understanding the stress connection
The link between stress and infertility is well recognized. Studies have shown that the diagnosis of infertility can create a "stress response" similar to that experienced by patients with terminal illnesses.  Physiologically, stress hormones, including cortisol, ACTH, norepinephrine and epinephrine are released into the bloodstream by the sympathetic nervous system and hypothalamic-pituitary-adrenal axis, forcing the body into "survival mode".  (1) In a state of fight or flight, vital functions are prioritized over reproductive function.  A constant surge of stress hormones over time interferes with hormonal balance and ovulation patterns.
Fertility yoga and the relaxation response
In an age, where we process more information in one day then our ancestors did in an entire lifetime, the challenge is to find time to go within.  Fertility yoga reduces the harmful effects of stress hormones by eliciting the "relaxation response," a technique discovered by Harvard cardiologist Dr. Herbert Benson in the early 1970s.(2) While the "stress response" is instinctive, the relaxation response must be learned by practicing techniques such as yoga, meditation, breath work and visualizations.
Research
Studies are confirming the link between stress reduction and increased conception rates. One study by Harvard researcher Alice Domar PhD showed that 55% of infertility patients who participated in her mind body program for a 10-week period (which included yoga and meditation) conceived, compared to 20% in the control group when tested after one year. (3&4)
Mind body techniques such as yoga have also been shown to improve in vitro fertilization success rates by lowering stress hormones. In a behavioral study of 151 women undergoing IVF, birth rates were 93% higher for women with the lowest stress and depression levels. (5) Conversely, high stress rates were shown to diminish IVF success rates. (6)
1.    Schell, FJ., Allolio, B., Schonecke, OW. (1994) Physiological and psychological effects of Hatha yoga exercise in healthy women.  Int. J. Psychosom. 41: 46-52.
2.    Benson, H.  The Relaxation Response. New York: William Morrow 1975
3.    Domar, A., Clapp, D., Slawsby, E., Dusek, J., Kessel, B., Freizinger, M (2000) Impact of group psychological interventions on pregnancy rates in infertile women. Fertility and Sterility 73(4): 805-811.
4.    Domar, A., Seibel, M., & Benson, H (1990) The Mind/Body Program for Infertility: A new treatment program for women with infertility. Fertility and Sterility 53: 246-249.
5.    Cooper BC., Gerber, JR., McGettrick, AL., Johnson, JV. (2007) Perceived infertility-related stress correlates with in vitro fertilization outcome. Fertility and Sterility 88(3): 714-717.
6.    Facchinetti,F, Matteo, ML., Artini, GP., Volpe, A., Genazzani, AR. (1997) An increased vulnerability to stress is associated with a poor outcome of in vitro fertilization-embryo transfer treatment.  Fertility and Sterility 67(2): 309-314.
Resources
Link to "Transformation" Journal
http://www.americanmeditation.org/newslett.htm
Link to Physician's and Health-Care Providers Retreat
http://www.americanmeditation.org/physicians.htm
Link to the book, "The Heart and Science of Yoga"
http://www.amipublishers.org/Movie/index.html

Frequently asked questions
Yoga
Is fertility yoga different from regular yoga?
All yoga has benefits, but Fertile Secret Yoga combines group support and therapeutic yoga postures designed to enhance your fertility.  Our intention is to help you to relax, release anxiety and replenish your deepest reserves.
Why is it important to go to class rather than just doing DVD's?
While it's a great idea to have some DVD's at home for daily practice, by attending a fertility yoga class you will benefit from the group's energy and support.

Is it okay to do yoga during an IVF or IUI cycle?
Please let your teacher know about any procedures you are undergoing, so she can support you with specific postures throughout the class.  The focus of your practice, during an IVF or IUI, will be on deep relaxation.
How often should I do yoga to get benefits?
Doing a little bit of yoga each day is a wonderful way to invite relaxation and meditation into your life.  Practicing a few basic stretches and  savasana (corpse pose) each day in addition to your weekly fertility yoga class will help you stay calm and centered throughout your week!

Is heated yoga or power yoga good for fertility?
We recommend avoiding heated or power yoga during this time.  A room temperature, restorative class is most beneficial to your fertility.  If there is no fertility yoga near you look for gentle, restorative and beginner hatha classes.
Can I do yoga during my period?
You can do yoga during your menstrual cycle but you will want to avoid inversions.  Your teacher will provide you with alternative poses to support the downward flow expressed during this time.
Testimonials:
Yoga for Fertility at CNY Fertility and CNY Healing Arts Centers
Meeting and talking with other women that have been going through the same thing has been one of the most important parts of my journey and my healing.  I no longer feel alone and I finally feel that I am understood.  Along with the connections that I have made with others, yoga, acupuncture and massage have helped me focus on myself and to find my inner peace and strength.  Thank you CNY!
~Anonymous
Yoga for fertility has taught me…
that I have power within myself
to use the power from within
that I have so many blessings
to appreciate my many blessings
that I have so much to offer
to remember  to offer what I have
that at any given time, I can find serenity
to tap into that serenity
that I may have limitations
to remember that my triumphs far outweigh any limitations
that it is safe to have faith
to let faith be my guide
~April
"Regular yoga is wonderful when trying to get pregnant, but there is something really special about coming together with a group of strong women who are all on the same difficult path to meditate, restore, and reflect on their own journeys- while supporting each other in ways that only those who truly understand the path to fertility can. I always leave feeling uplifted, refreshed, and stronger than ever!"
~Jessica